Culver Academies
The Academies' 1800 acre campus offers nearly 800 winter, prep school students and an additional 1600 Summer Campers one of the best educational experiences of their lives.  The campus is home to the famous Culver Black Horse Troop and the nearly 200 horses are housed in the country's largest indoor riding arena.  Two full indoor hockey rinks, 7 indoor basketball courts, indoor swimming and track, Eppley Auditorium for Fine Arts, the Huffington Library and the Dicke and Roberts Math and Science building assures that every student at Culver has the opportunity to excel. Culver's Mission is to educate its students for leadership and responsible citizenship by developing and nurturing the whole individual—mind, body and spirit through an integrated curriculum that emphasizes the cultivation of character.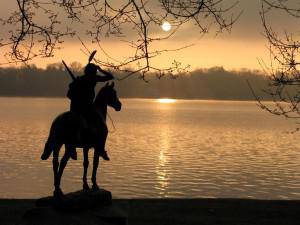 Over $8 million annually is awarded in scholarships.  Children come from 48 states and 26 foreign countries.  An excellent faculty and summer staff assure exceptional training in an unforgettable atmosphere.
While the Winter Schools, Culver Military Academy and Culver Girls Academy, are strictly college preparatory, the Culver Summer Schools and Camps offer leadership training while having a blast!
The main Summer Camps – taking in 6 weeks from late June until early August – include the Woodcraft Camp for boys and girls 9-13 and Upper Camps – the Naval School (emphasis on learning and being licensed to sail), Horsemanship (emphasis on Cavalry training) and the Girls School (who are able to afford themselves of every opportunity).
Access Culver provides the best Culver Lodging options for Academy weekends!